Help make quilts for charities!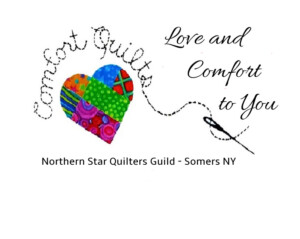 Besides the wonderful camaraderie, Comfort Quilts is a place where new quilters can receive guidance and seasoned quilters can learn new techniques.
We make lap-size quilts for hospitals, shelters, individuals in need of comfort, and fund raisers.  If you know of any organization or anyone that could benefit from our quilts, let us know.
You can view a summary of who has received our recent quilt donations HERE.
Comfort Quilts welcomes all interested NSQG members, so consider joining the fun!
For further information or to donate quilt fabric,
contact charitable@northernstarquilters.com
Schedule
Comfort Quilts in-person meetings are generally held once or twice a month on scheduled Wednesdays between 10 and 2 at the North Salem Volunteer Ambulance Corps, 14 Daniel Rd, North Salem, NY.  You can stay for all or part of the day. Bring your sewing machine, and a snack lunch if desired.  Fabric, batting and basic quilting tools donated by members and others are available for your use.
Check the Latest News Comfort Quilts section on our website blog or newsletter for the latest updates and current meeting dates.
Infrequently meetings need to be cancelled or rescheduled at the last minute.  If in doubt or coming for the first time, please check. 
If your schedule doesn't allow you to participate in our daytime Comfort Quilts sessions, we also prepare pre-cut kits.  Pick up a kit at guild meetings from the Comfort Quilts table and return for distribution when it is finished, no deadlines.  Stop by the Comfort Quilts table at our next guild meeting or contact us.  We look forward to welcoming you.

If you would like to be added to the CQ notification email list or to get further information, contact Carol Auer or Karen Carlson (info in NSQG directory) or email comfortquilts@northernstarquilters.com.
---