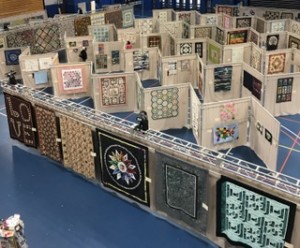 The World of Q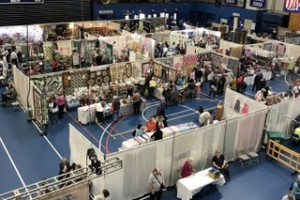 uilts show, first held in 1989, was the impetus for the formation of the Northern Star Quilters' Guild.  What started as a small show to raffle a quilt and raise money to support the local American Field Service has grown into large event that helps promote the art of quilting.  The World of Quilts show is held the first weekend in May of each year.  The show typically has on display  more than 300 quilts which include about 200 registered quilts, this year's raffle quilt, pieces by a nationally recognized invitation quilter, works from the Guild's Special Interest Groups (SIGs), as well as quilts made during the year as part of the Guild's activities.  Additionally, at the show there are 30+ vendors, demonstrations, and presentations by our keynote speaker.
The World of Quilts show helps the Guild maintain its purpose of promoting interest in and encouraging participation in the art of quilting, while stimulating and coordinating the efforts and talents of individuals interested in quilting.  Proceeds from the raffle quilt support a chosen charity, other funds raised at the Show support the educational activities of the Guild that in turn help to keep the art of quilting flourishing.
Browse thru the Quilt Show menu above to see all our show activities.
For current year details, click – Visit the Show
For further information, contact [email protected]
Save
Save
Save
Save
Save
Save
Save
Save