To signup and pay by check:  first EMAIL  kathytuttle9@gmail.com with your selection and then mail your check (payable to Northern Star Quilters' Guild):  Kathy Tuttle, 9 Coventry Circle, Mahopac, NY  10541.

– All sign-ups are subject to availability, no refunds unless the event is cancelled or overfilled.
– Please be sure your NSQG membership is up-to-date (
click here to renew or join
) before registering as a member.
– Non-members are welcome (based on availability) for an increased fee, usually $20.
Class confirmation and supply list will be emailed when payment is received.
Zoom link, if applicable, will be emailed to participants a few days before the workshop.
---
This in-person workshop is titled Unmarked – Contemporary Quilting with your Walking Foot.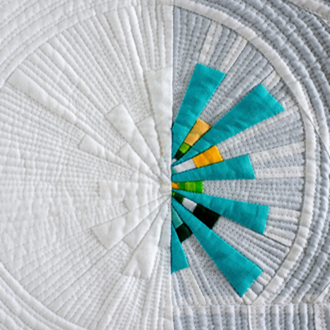 You can do so much innovative quilting JUST with your walking foot! I will show you my method of quilting with your walking foot that involves little or no marking but still results in spectacular quilting.
I start with the basics, such as batting choices, thread, needles and how to secure the quilting stitches. Then, we start quilting with straight lines and move to curved quilting lines and spirals on your practice quilt sandwiches. For both the straight line and curved quilting, I will show you many designs and variations you can use to great effect. I will also have some of my quilts as examples, including "Burst" which received the award Best Machine Quilting (Frameless) at QuiltCon 2019. This class will change the way you think about your walking foot!