Especially for those who can't come during the week as well as our 'regulars'
 'Make a Comfort Quilt' Saturday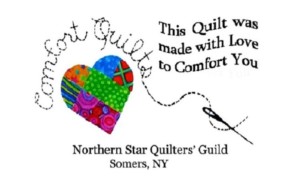 Saturday, February 26th, 10:00am-3:00pm
North Salem Volunteer Ambulance Corps, 14 Daniel Road, North Salem, NY
Free to all members. All recommended vaccinations required.
Bring your sewing machine and personal sewing tools (neutral thread, scissors, pins, seam ripper, etc), everything else is provided.
Enjoy a day of sewing with friends.
There will be simple quilt kits available to select and sew, some could even be completed during the session.
Assistance available as needed on selecting, sewing, and quilting your chosen kit.
If you want to keep your quilt rather than donating it to Comfort Quilts, there will be a $10 materials charge.
 Chicken and veggie wraps will be available for lunch plus cookies to munch and hot water to brew your favorite drink.
If not to your taste, just bring a lunch of your choice.
Come for the entire time or just whatever part of it works for you.
Space is limited and to avoid overcrowding, pre-registration required.
Questions? Contact Karen Carlson or Carol Auer, comfortquilts@northernstarquilters.com