This is a Zoom event.
The zoom link will be emailed to registered participants a few days before.

---
To signup and pay by check:
– EMAIL  programs@northernstarquilters.com with your selection
– NOTE on your check what workshop and MAIL your check (payable to Northern Star Quilters' Guild) to:
Deborah Tashjian, 6 McDougal Lane, Cortlandt Manor, NY  10567
– All sign-ups are subject to availability;
no refunds
unless the event is cancelled.
– Please be sure your NSQG membership is up-to-date (
click here to renew or join
) before registering as a member.
– Non-members are welcome (based on availability) for an increased fee, usually $20.
–
Class confirmation will be emailed when payment is received.
Supply lists, if not already on the website, will be emailed shortly before the workshop
Zoom link, if applicable, will be emailed to participants a few days before the workshop.
–
---
---
** WAITLIST ONLY **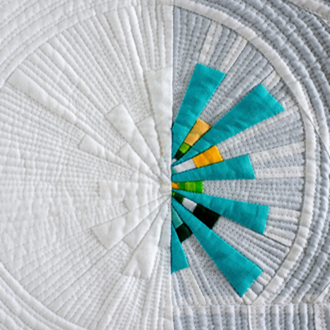 You can do so much innovative quilting JUST with your walking foot! I will show you my method of quilting with your walking foot that involves little or no marking but still results in spectacular quilting.
I start with the basics, such as batting choices, thread, needles and how to secure the quilting stitches. Then, we start quilting with straight lines and move to curved quilting lines and spirals on your practice quilt sandwiches. For both the straight line and curved quilting, I will show you many designs and variations you can use to great effect. I will also have some of my quilts as examples, including "Burst" which received the award Best Machine Quilting (Frameless) at QuiltCon 2019. This class will change the way you think about your walking foot!
---
Supply List:
IF YOU HAVE ANY QUESTIONS, PLEASE E-MAIL ME –  margetuckerquilts@gmail.com
Fabric requirements:  
Three to four quilt sandwiches (fabric-batting-fabric) that measure 18" x 20"/22".
The fabric should be a light solid or solid-looking.  This is so you can make notes on the sandwiches and see your quilting lines.  To make the quilt sandwiches you could use six to eight fat quarters to make the quilt sandwiches, or 1 1/2 to 2 yards of fabric cut into 1/2 yard cuts then cut on the fold.  Cut three to four pieces of batting the same size as the fabric (18" x 20"/22").  A cotton, cotton/poly blend or thin polyester batting work well.
Tools required:
Thread – have a thread (or threads) that will show up on your fabric. If you like, bring several types of thread or assorted colors.  Cotton or polyester thread is fine.
Quilting needles for your sewing machine (size 11 or 14)
Quilting gloves like Machingers or Grabaroos
Sewing machine in good working order with its power cord, foot pedal AND manual. If you have a slide-on table for your machine, bring that as well.
Walking foot for your sewing machine (Note: this is not a foot that comes with most sewing machines. If you are not sure if you have one or need to get one check with a dealer that sells your brand of sewing machine.   **Some sewing machines have a built-in walking foot (or dual feed system) like some Pfaff or Janome models and some new Bernina models.  If your machine has this function, there is no additional foot needed.  **
Basic sewing supplies:
Pins, seam ripper, scissors, etc.
A fine-tip black Sharpie or Pigma pen to write on the quilt sandwich
A Hera marker, Clover Fine White Marking Pen, or a Frixion pen to mark the quilt
6" x 12" or a 6" x 24" acrylic ruler
**Prep work before class: **
Place a few safety pins in the quilt sandwiches (1 in each corner is good) or spray baste.
Have your walking foot on the machine before class. If your machine has the dual feed, as addressed above, you are set.  Sew a line to see how everything is working.
---