To signup and pay by check:
– EMAIL  programs@northernstarquilters.com with your selection
– NOTE on your check what workshop and MAIL your check (payable to Northern Star Quilters' Guild) to:
Deborah Tashjian, 6 McDougal Lane, Cortlandt Manor, NY  10567
– All sign-ups are subject to availability;
no refunds
unless the event is cancelled.
– Please be sure your NSQG membership is up-to-date (
click here to renew or join
) before registering as a member.
– Non-members are welcome (based on availability) for an increased fee, usually $20.
–
Class confirmation will be emailed when payment is received.
Supply lists, if not already on the website, will be emailed shortly before the workshop
Zoom link, if applicable, will be emailed to participants a few days before the workshop.
–
---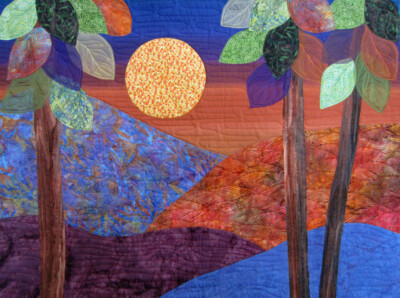 Landscape Quilts:  Nature & Architecture
Thursday, 19 October 2023
9:00 am to 3:30 pm EDT
Members $50 / Non-Members $70
Live, in-person at the Millwood Firehouse on 100 Millwood Road in Millwood, NY 10546.
RACHEL DERSTINE  – I am an art quilter living in Philadelphia, Pennsylvania.  My works have been featured in invitational and juried gallery shows and fine art/craft shows throughout the country.  My work has been purchased and installed in institutions such as Epic Corporation in Madison, WI, and the Milton Hershey Medical Center in Hershey, PA.
I primarily use hand dyed or painted cottons, silks and nonwovens but also have a love of Asian fabrics and kimono silks, incorporating these ancient traditional fabrics into my compositions. Use of sheers, couching and fabric paints give a sense of depth and texture. Slightly curving lines portray gracefulness and circles are often present representing wholeness and creativity.
INSPIRATION – My inspiration comes from observing the world around me as well as exploring the world of my childhood.  We have recently moved to center city Philadelphia, and I derive great energy from living in vibrant surroundings which I love incorporating into my art.
TECHNIQUES – My fiber art employs both traditional quilting techniques such as piecing and applique as well as contemporary applications such as fusing, couching, use of textile paint …
HIGHLIGHTS – Fusible applique collage; simplifying elements from a photo or sketch; creating the illusion of depth through overlapping and layering, size, color, value, and linear perspective; quilting and how to add facing.
---
Rachel will teach how to create a landscape quilt that focuses on nature or architecture or some combination of both.  You will be able to work from one of Rachel's images or from one of your own choosing.
In this multi-level, full day workshop, Rachel will teach how to create a landscape quilt that focuses on nature or architecture or some combination of both.  Rachel will briefly cover her favorite techniques, tips & tricks so that you may stick to a simple landscape or apply them to a more complex design.
We will be learning fused applique collage, creating a background and using it as a canvas on which to add other elements, such as trees, structures, and water. We will also be learning how Rachel creates her quilts with full color and depth. Students will finish or nearly finish the quilt top during the class. Quilting and facing will be demonstrated and discussed.
The possibilities are limitless:
Think waterscape–an oak tree shading a meandering river, maybe a bridge. . .
Think farmscape–fields of corn and soybeans, an endless sky, maybe a barn. . .
Think cityscape–buildings, streets, windows, doors, maybe a magnolia tree. . .
Think gardenscape–a winding path, hosta, irises, a weeping willow, maybe a bench. . .
Think mountainscape, seascape, skyscape, and many more. . .
Rachel's workshop is for every quilter! You want simple? You want complex? Rachel will cover her basic techniques for construction and design so that you can apply them to the "scape" of your choosing. Rachel will also discuss quilting ideas and demonstrate how to add facing to your landscape quilt.