Comfort Quilts Display and Raffle
Admire our summer project display of quilts 'Same Jelly Roll, Different Quilt' and buy a ticket to win your choice!
---
Orphan Block Packs
Got orphan blocks? Bring them to Patricia Loquet.  She'll be turning them into packs to be distributed to make into beautiful Comfort Quilts.
---
Lecture – Keep it Simple, but Pack a Punch.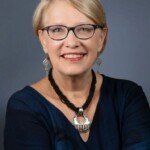 Rachel Derstine – I am an art quilter living in Philadelphia, Pennsylvania.  My works have been featured in invitational and juried gallery shows and fine art/craft shows throughout the country.  My work has been purchased and installed in institutions such as Epic Corporation in Madison, WI, and the Milton Hershey Medical Center in Hershey, PA.
I primarily use hand dyed or painted cottons, silks and nonwovens but also have a love of Asian fabrics and kimono silks, incorporating these ancient traditional fabrics into my compositions. Use of sheers, couching and fabric paints give a sense of depth and texture. Slightly curving lines portray gracefulness and circles are often present representing wholeness and creativity.
INSPIRATION – My inspiration comes from observing the world around me as well as exploring the world of my childhood.  We have recently moved to center city Philadelphia, and I derive great energy from living in vibrant surroundings which I love incorporating into my art.
TECHNIQUES – My fiber art employs both traditional quilting techniques such as piecing and applique as well as contemporary applications such as fusing, couching, use of textile paint …
---
Business meeting generally starts at 6pm, arrive earlier for sign-in, refreshments and socializing, with any lecture generally at 7pm.
Guests are always welcome, there is a guest fee, $15, which can be credited toward membership – click HERE for more information.
Our Hospitality team provides coffee and tea along with some cookies at guild meetings.
Please bring your own mug or water bottle.
Member contributions of home-baked treats or other simple snacks are always welcome!
---