Online via Zoom
Sew Many Triangles – David Sirota – Jan 19, 2022
9am-3pm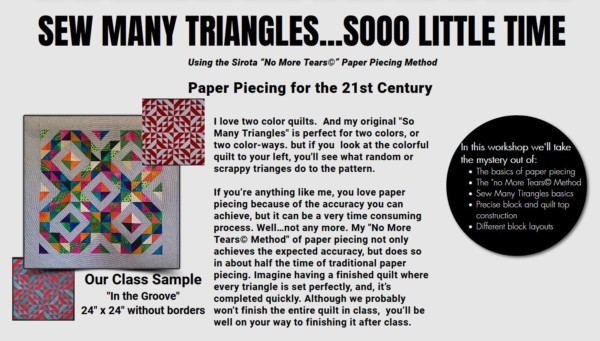 ---
The workshop is for NSQG guild members with a max number of 24.  Two weeks prior to the workshop, Dave will make available any spots left for non-member signups.  This workshop fee is $40.
–
*** The signup procedure for this workshop is a bit different then usual ***

–
Then go to the
quiltmavendave.com
website, scroll down to signup for 'Sew Many Triangles' sponsored by NSQG January 19th.
–
 Before the class Dave will email you the pattern and directions to be printed out on regular copy paper.  There is no additional fee for the pattern.
–
Participants will receive an email with the ZOOM link as well as the pattern.
–
Contact programs@northernstarquilters.com with any questions.