Katie Pasquini Masopust Workshop – Ghost layers and Color Washes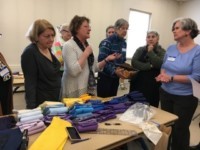 ---
Katie Pasquini Masopust Workshop – Artful Log Cabins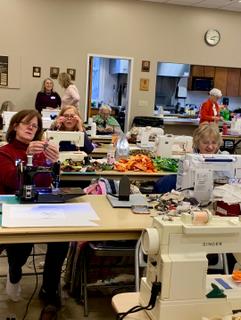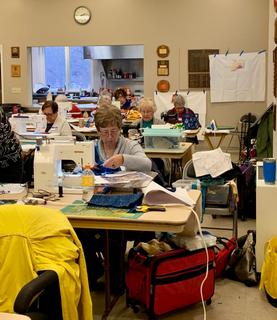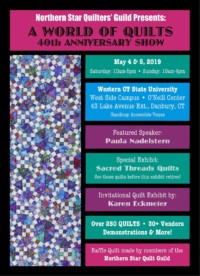 Thanks to everyone for registering your quilt for the show this year. We are hoping our
40th Anniversary Show
is one of our best! Remember to tell all of your friends about the show; use our
postcard
– email everyone you know!
Ticket prices this year are as follows:
General Admission $10
Students w/ valid ID: $8
Faculty & Alumni of WCSU: $8
Children 5 & under: FREE
We look for everyone to do at least 2 hours of volunteer service for the show. We need all hands on deck to ensure this year's show is a success.
—
In addition to over 200 quilts we will have in our exhibit, we will also feature:
• PAULA NADELSTERN
In addition to having her own quilts on display, Paula will also be our guest speaker:
Saturday @ 11am & 2pm
Sunday @ 1PM
• SACRED THREADS EXHIBIT
We have the luxury of being one of the last stops for this traveling collection.
The exhibit contains 36 works of art in the theme of "JOY"
• KAREN ECKMEIER
We are delighted to have the works of Karen Eckmeier as part of our show
• DEMONSTRATIONS
We have three Demonstrations planned for the weekend:
Saturday 1pm: Denise Isherwood: Finishing Edges
Saturday 3pm: Bobbie Berkowitz: Quilt as you Go
Sunday 2pm: Bobbie Berkowitz: Appliqué the Easy Way
Held both Saturday and Sunday:  Featuring new wall & lap quilts as well as FAT QUARTER Baskets each day!
• FANE EXHIBIT
We are super excited to once again have the FIBER ARTS NORTHEAST exhibit at our show.
This year's exhibit is entitled COMPLEX CASCADE and is sure to be another amazing installation of creativity
We have a beautiful Quilt up for Raffle this year, blocks made by members of the Guild, and quilted by Mary Cannizzaro…be sure to get your raffle tickets sold and turned in before the Show!
• VENDORS
30 vendors with a variety of goods including fabrics, threads, notions , wools & more!
—
We are also finalizing a couple more goodies, so stay tuned for further updates!
For those of you who registered your quilt for our show, remember that Quilt Drop-off is scheduled at KENNEDY HIGH SCHOOL for Saturday, April 27 from 1pm – 4pm.
Make sure your quilt is clean, free of odors and lint; has a 4" sleeve attached to the back top of the quilt & that your  registration number is attached to the lower right back corner of the quilt. All registration labels will be sent out to  all participants in the first 2 weeks of April.
—
—
***
Congratulations to all who participated in the Ruby Challenge. What a wonderful display of talent and imaginative use of the ruby fabric. Many thanks to April Russell for her great idea and leadership!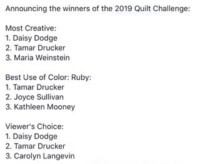 A few of the quilts…
Jennifer Kramer, specialevents@northernstarquilters.com
***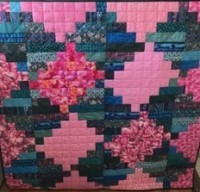 Follow this quilt at our Quilt Show and you will arrive at the Comfort Quilt Exhibit. A wonderful sampling of the many beautiful and colorful Comfort Quilts will be on display. Thank you to all members who made quilts or donated fabric making it possible for NSQG to give comfort to those in need.
—
Thanks to all who returned their raffle stubs and money to support this year's charity Dulce Esperanza Camp. If you haven't turned in your raffle money yet, you can still bring it to the April Guild Meeting. Drawing for the elegant charity quilt and the Bernina Sewing machine will take place at our May Guild meeting.
—
Starts June 5 @ 9:30 am – 3:30 pm
B'nai Yisrael temple Armonk, Armonk, NY
June – August: every Wednesday (no holiday meetings)
—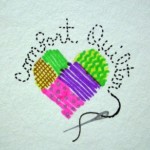 Please wear your name tag as there will be a drawing for a chance to win a Fat Quarter (don't we all need more fabric).
Contact Rosemary DePaola, membership@northernstarquilters.com
***
Photos from Previous NSQG Activities
Anita Grossman Solomon Workshop – Two Color Pineapple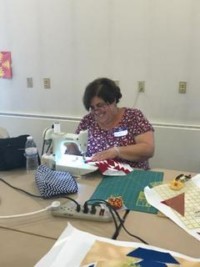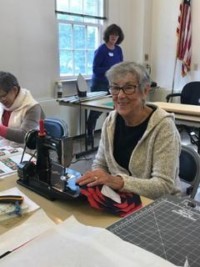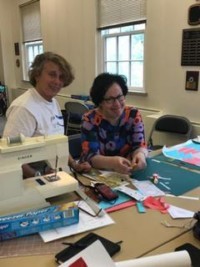 ---
Super Saturday – Caryl Castellion's House Block Quilt from Patricia Loquet's Class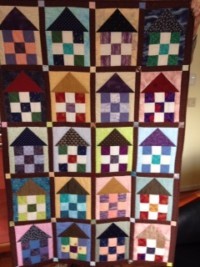 ---
Keep sending in photos!
Thanks to all who have, News@NorthernStarQuilters.com