Programs - Kathy Tuttle-
FREE BONUS WORKSHOP – Carolina Cuevas will be offering a free Zoom workshop on Saturday, September 11th,  2-4 pm.  You will learn to make dyes and dye paste from organic and accessible materials to produce beautiful designs and patterns on fabric. Participants can watch Carolina go through the process or participate along with her in your kitchen.  Additional details to be emailed separately and a supply list will be sent to all participant's after signing up for the workshop.
Sign up for the workshop with Kathy Tuttle – Kathytuttle9@gmail.com.  There is no fee for this workshop but please register beforehand if interested and membership must be current.

---
The Global Quilt Connection has scheduled another online All Star Sampler Platter for October 2nd and 3rd.  We will be registering the guild and sending current members more information and the Zoom sign in link when available.
---
COMING WORKSHOPS
Giucy Giuce (online) is our first meeting lecturer, Modern Quilt Photography via Zoom, September 21st.  His Zoom workshop is September 22.  The Vintage Quilt Revival is the topic of the workshop.  This is a great design opportunity if you are interested in designing and planning your quilt.
---
Julia McLeod (online) October 19th and  20th will lecture on "Everything But Cotton" with a next day workshop "Starting with Silk".
---
Sarah Nishiura (online) November 16th will lecture on "Home". Her workshop date will be later, Wednesday December 1st,  "Deconstructing Design".
---
Click HERE  for more details on the lectures and workshops or check our website, signup anytime.
Emails with details and reminders about workshops as well as any extra events are sent regularly, be sure to watch for them.
Zoom lecture links are sent out a couple days beforehand, recording links for those lectures that can be recorded are sent out a couple days after.   Workshops are not recorded.
Contact Kathy Tuttle, programs@northernstarquilters.com, with any questions.
The cost of a one day workshop is $50.00 for NSQG members, non-members are welcome (based on availability) for a fee of $70. 
The cost for a two day workshop varies, check specific workshop information for details.

All workshop sign-ups are subject to availability, no refunds unless workshop is cancelled or overfilled.
Please be sure your NSQG membership is up-to-date (
you can renew here
) before registering as a member for a workshop.
To signup and pay by check:  email programs@northernstarquilters.com with your workshop choice and mail your check (payable to Northern Star Quilters' Guild):  Kathy Tuttle, 9 Coventry Circle, Mahopac, NY  10541.

Class confirmation and supply list will be emailed when payment is received.
---
September Workshop Description

Online via Zoom.

Vintage Quilt Revival Workshop:  Giucy Giuce – September 22

What's old is new again! Contemporary quilt designers are reaching back to vintage quilts to draw inspiration for their new quilt patterns. But how do you turn a dusty old quilt in the attic into a new and exciting design? Join Giuseppe Ribaudo from Giucy Giuce as he demonstrates how to deconstruct the elements of a vintage quilt and turn it into something new. Giuseppe will share his personal experience working with Mary Fons to redesign a vintage quilt for QuiltFolk magazine. He'll then share his tips and tricks for dissecting old quilts of your own and give you the tools you need to design your own new quilt pattern!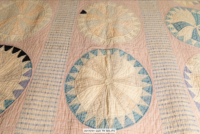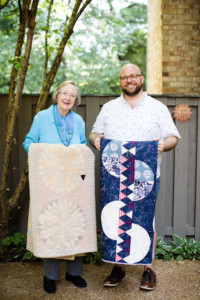 ---
Charitable Activities - Dee Plouffe -
Comfort Quilters have been stitching away even though we have met infrequently!  We plan to continue with some in-person meetings thru the fall.  Right now the dates planned are Wednesdays, 10am-2pm – Sept. 22, Oct. 6 & 20, Nov. 3 & 17, and Dec. 1 & 15.  Vaccination required, masks still by personal choice, no lunch table setup, eating either outside or at your table spot is fine.
The NSQG Comfort Quilts' distribution list, recorded by Pat Julian, in the past year has exceeded 507 quilts.  thanks to our wonderful group of Comfort Quilters who make these donations possible.  You can view the distribution summary Here.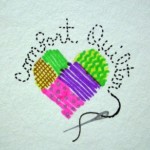 All members are welcome to contact comfortquilts@northernstarquilters.com to join in making Comfort Quilts quilts or to make any charity quilt requests or any fabric donations.
---
2022 Raffle Quilt "Bright Star"
NSQG runs a yearly quilt raffle whose net proceeds benefit a not-for-profit charitable organization. This year's recipient will be Friends of Karen. For 43 years, Friends of Karen's mission is to provide emotional, financial and advocacy support for children with a life-threatening illness and their families in order to help keep them stable, functioning, and able to cope.
This year's quilt, Bright Star, was coordinated by Judy Gignesi and a group of Guild members.  It was quilted by Angela Vertucci.  The quilt will be displayed at the September Zoom Guild meeting.
Dee Plouffe',  charitable@northernstarquilters.com
---
Membership-Carol Sterk -
Dear members,
September brings the start of a new guild year and the 40th anniversary of Northern Star's first open meeting following its founding in May, 1981. We've come a long way from making sampler blocks using self-made plastic templates to producing increasingly sophisticated quilts in a variety of styles! This is a good time to stop and reflect upon all that the guild continues to offer us and to celebrate friendships that have been made along the way and continue to be made as we come together to learn, grow and share our knowledge and passion for quilting.
Membership Update –
As of now, 109 people have renewed their membership for 2021-2022, and we have 2 new members for a total of 111. Please welcome Shari Lanay of Chaska, Minnesota and Alona Harman of Carmel, NY.
92 people have sent in pictures for the NSQG Member Directory. If you would like your photo included, email it to:  www.membership@northernstarquilters.com
 If you haven't done so, I invite you to renew your membership now. 
Dues are $45.
The links for a registration form and payment are below, just pick and click.
Renew by credit card
or
Renew by check and mail
*****************************************************************************
*Please note that if you are having difficulty registering online, it may be that you have already done so. There is a check in the system that prevents duplicate registrations.

*We will continue sending reminder notices to members who have NOT registered for 2021-2022.
See you in September!
Carol Sterk and Joanne Visovsky, membership@northernstarquilters.com
---
Secretary - Fran Jacobson
REMEMBER – the Guild always likes to reach out to members with a get-well or sympathy card when it would be welcome and to acknowledge donations and gifts with a letter of thanks.   Please let me know if there is a member in need of a little Sunshine or a note of appreciation.
Thank you,
Fran Jacobson, Secretary@northernstarquilters.com
---
Activities - April Russell, Narci Medina
We hope that everyone had a great summer catching up with family and friends. And, of course, Quilting!  As the new Activities Liaisons for the 2021/2022 guild year, we are excited to see what this new year will bring.
Are you all working on a Challenge Quilt – Put a Heart on It?  Good!  We can't wait to see them.   This Challenge has had to ride out the Covid wave to get to the finish line.  Hopefully, the extended time line has given more members an opportunity to participate.  We certainly look on track for the "back to normal" routine of collecting the quilts in February and voting in March.  In the event that the February and March meetings remain in the Zoom format, we will then make alternative arrangements to collect the quilts and move the voting to the April meeting where they can be voted on in person.  While the online voting process certainly was fun, nothing beats seeing the quilts up close and in person.  The collection process will be very similar to the process we utilized when returning the prior challenge quilts.  It worked very well.  Team work!  We will know more as our 2021/2022 year progresses.  Please click HERE or check our NSQG home page for the specific Challenge requirements.  If you have any questions, please don't hesitate to contact us.
We are happy to announce the continuation of the Special Interest Groups – SIG's.   The SIG's will continue to meet via Zoom with the exception of the Improv Group.  A complete list of the SIG's are listed below.  If you are interested, please contact the group leader directly for more information.
Hand Embroidery – LuAnn Bruce – craftern10@aol.com- Tuesday afternoon – Beginners/Intermediate
For Art Lovers – Tamar Drucker – tedquilt@gmail.com – Last Monday of the month, 4pm
Improv – Meg Mooar, Jane Eyes – mmmooar@optonline.net – Every other Thursday, alternating Zoom/In-person
Scrappy Quilts – Jennifer Larrabee – jeneric829@optonline.net – First Tuesday of the month
Make it Modern – Yvonne Clayton – yclayton@gmail.com – 1st & 3rd Thursdays monthly (Sep.9,23)
Quilting Skills (Beginner) – Diane Linker – diane.linker@verizon.net – To be determined
We are working on firming up our other guild activities.  Covid concerns will once again impact what those activities will look like.  We won't let this slow us down though.  We have some fun alternative options in the works if we are still Zooooming!
Happy Stichin,
April Russell & Narcita Medina, activities@northernstarquilters.com
---
Member Notices: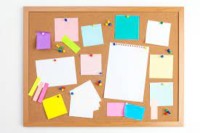 Nancy Hantman compiled her latest 'Road To . . . ' of quilt events and quilt websites.