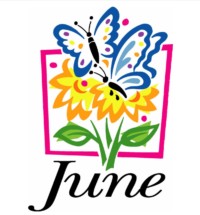 This June seems very much a time of new beginnings:  Spring is bursting forth and seems to be lusher than ever, we are casting off our masks and slowly starting to pick up our pre-pandemic lives — and we have a new Board, ready and eager to take over the reins of the Guild.  Thank you again to all those Board members who agreed to serve.  We wish you all the very best in the coming year and we hope that you find your experience on the Board as rewarding as we have.
The past year has certainly been a learning experience. Among the challenges we can all be proud of mastering, count the technology that allowed us to continue getting together.  Our Zoom meetings and lectures averaged over 65 members each month.  Online workshops were full. Small group SIGs met together over the Internet.  Not only did we become comfortable with the technology, we discovered its benefits.  The online forums helped us get to know each other better, meet others for the first time, and allowed new members, some living miles away, to join us.
We want to express our sincere gratitude to those who made this possible.  First, the Board who were unstinting in their support of all the changes that had to be made and so willing to step up and do what was needed to keep the Guild and its programs going.  We think everyone will agree that Linda Stern deserves a special shout-out for the wonderful variety of programs that we have enjoyed from creative quilters around the world and Anne MacDonald acted as the perfect emcee, hosting our meetings and allowing us to take part, to chat and to vote.   Kudos too to all those volunteers who were willing to take on SIGs and pop-up workshops to meet our need to be together and share our interests.  We have been enriched too by the quilts and their stories that members have shared with us.
During the last year, members have been busy quilting!  In particular, six of our members – Donna Chambers, Susan Fasnacht , Linda Finegan, Jennifer Larrabee, Judy Simek and Rona Spar – now have their work displayed at the ArtsWestchester Exhibition "Together apART:  Creating During COVID".  Congratulations to them all! The works will be on display at the ArtsWestchester Gallery at 31 Mamaroneck Avenue, White Plains.  Reservations are required and can be purchased here: https://artswestchester.org/together-apart-creating-during-covid/.
Despite the pandemic, our raffle this year hit a record.  At the next Guild meeting, a check for $9,000 will be presented to SHORE/ICARE.  Dee Plouffe did an amazing job of organizing the raffle – distributing the tickets, receiving the proceeds and enlisting her lovely granddaughters to pick the winners.   Thanks also to Pins and Needles and SHORE/ICARE who rallied their customers and supporters.
Next year's 2022 raffle recipient will be Friends of Karen. This charitable organization provides emotional, financial and advocacy support for children with life-threatening illness and their families.  Judy Gignisi and her helpers will be displaying the wonderful quilt they have created for this raffle come fall.  And Rosemary DePaola has generously agreed to organize the assembly and quilting of a striking contemporary quilt for 2023 (we do think ahead)!
The lecturer for our June 15th Guild meeting will be Elizabeth Eastmond.  In her lecture, the Abecedary of Quilts, she will talk about the power of quilting and tell stories about how our creative efforts affect our lives and those of others around us.  We hope to see you there for our final meeting of the Guild year.
We wish all of you a relaxing and fun-filled summer and look forward to having you back in September, rested and bursting with creative ideas!
Best, Karen and Anne
June 2021