Charitable Activities
There continues to be a demand for our Comfort Quilts and those that receive them are very appreciative. Are you able to contribute to this cause? A quick easy way to make a quilt is by using one of the kits that Kathy Keane brings to every Guild meeting. Besides the pattern, the fabric is already cut and ready to use. There are no time requirements. Whenever you can get it finished, there is a child or adult suffering a life threatening illness, severe trauma or other dire circumstances who could use some comfort.
Thanks also to all those who returned their raffle stubs and money to support this year's charity Emergency Shelter Partnership. You can still turn in your money and tickets at the April Guild Meeting or at the Quilt Show. The drawing will take place at the May Guild Meeting.
See a sampling at the Quilt Show of the many beautiful and colorful Comfort Quilts that are donated to give comfort to those in need. Thanks to all who made quilts or donated fabric to make these outstanding quilts.
althea s. nolan, charitable@northernstarquilters.com
2020 Raffle Quilt Coordinator Needed
Volunteer to be Raffle Coordinator and use your quilting talents to support a worthy charity.
Past experience has shown the following general schedule to work well:
– getting the design approved by the Board by the end of this year's guild season, June 2018
– setting up for construction over the 2018 summer months
– overseeing the piecing, quilting, and binding thru the 2018-2019 guild season and summer
– getting the quilt photographed over  summer of 2019
– presenting the finished quilt to the membership at the September 2020 guild meeting.
If you or a group of friends are interested in overseeing the construction of this raffle quilt or have any questions, contact althea nolan, charitable@northernstarquilters.com for details.
Hospitality
Members whose last names begin with S,T please bring snacks.  There will be a raffle, so be sure to get your free ticket when you deliver your snack. Thank you!
Lecture/Workshops
Program Update
April 17 – Maria Shell Lecture "Patchwork to artwork – Journey of an Alaskan Quilt maker"
April 18 – Maria Shell Workshop "Making Prints out of Solids- Lines and Shapes"
                  ONE SPOT LEFT IN CLASS!
April  19 – Maria Shell Workshop, "Circle and Curve Sampler"
                  CLASS FULL

May 15 – Sue Beevers Lecture "Color Interaction"
                  This will be a hands-on participation lecture!
May 16 – It's a Go!!!  Sue Beevers Workshop, "Printing, Stamping and Monoprinting"
                 In this workshop, Sue will teach us how to create unique fabric through different painting techniques
                STILL ROOM!

Contact Helen May, programs@northernstarquilters.com
Quilt Show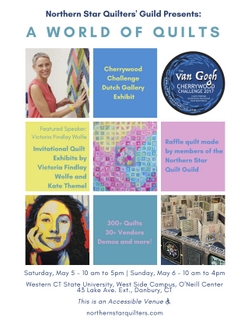 -If you haven't yet volunteered for the show, please do so now! Job list
here
, c
ontact Carolynn Young,
showvolunteers@northernstarquilters.com

–
–
Quilt Show Book and Magazine Sale
At the April meeting we will again be accepting gently used magazines and books to sell at the Quilt Show. When donating magazines please remember to remove your address label and group magazines by title. Bag securely and drop off at the library table. Members can also bring books/magazines to the quilt show.
Contact Narci Medina, library@northernstarquilters.com with questions or to help.
Old Quilt Show Posters
Looking for photos of  quilt show posters or raffle quilt pictures (pre-2014),  please email me a .jpg copy for the website or let me take a digital photo of your old photo.   Thanks, Karen Carlson, news@northernstarquilters.com
Member Notices
Donated to Comfort Quilts, proceeds go to the Guild:
-1951 Singer Featherweight, $200 with case and accessories.
-White serger, $50,
Contact Karen Carlson, news@northernstarquilters.com for further information,
Special Interest Groups (SIGs)
Improv SIG ….Join us for a demo in which Cheryl Kosarek will show us improv curved piecing. And as a added bonus, we'll learn how to do a black fabric sketch inspired by words and letters.
Paper Piecing SIG….is going to meet on 4/18, not on 4/11 as previously planned.  Time is 10am-1 pm at Fabric Mart
LongArm SIG…. will meet on April 7th at Helen May's home. The May meeting will be on May 12th at Kathy Vanacoro's home.
EQ SIG …..will meet at 5:45 at the back of the cafeteria.
Landscape SIG…. The next meeting will be on Saturday April 21st from 1pm to 3pm at the FABRIC MART quilt shop in Yorktown.
Art SIG … We will meet at 5:45 before the guild meeting in the teacher's lounge.  Please bring your mini challenge experiments using man-made objects.  They do not need to be finished pieces.