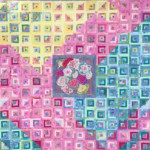 Raffle Prize Winners –
***Glenn Ostrander won the Grand Prize Quilt "Which Way is Up" coordinated by Donna Chambers and quilted by Mary Cannizzaro
***Jean Degl won the First Prize Bernina 350 Sewing Machine donated by Pins and Needles
Charity – $3,000 was awarded to our 2018 Charity, Emergency Shelter Partnership, a not-for-profit organization that provides short-term emergency shelter and food for those in need of a safe and warm haven during the coldest five months of winter. This donation was made possible thanks to all who purchased raffle tickets and to sponsoring member Linda Stern.
2020 Charity Quilt – Thanks to all who brought blue and yellow fabrics for Pat Julian, our Raffle Quilt Coordinator for the 2020 show quilt.
Comfort Quilts – Thanks to all who took a Comfort Quilt Kit to work on during the summer, your efforts are appreciated.
All are invited to join the Comfort Quilters every Wednesday in their Summer Quarters at Bnai Israel in Armonk.
Happy Quilting to all!
althea s. nolan,  Charitable Activity Chair, charitable@northernstarquilters.com