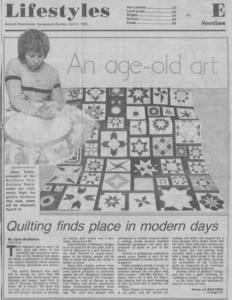 We hope you all had an enjoyable summer.
As we start the new Guild year, a warm welcome back to renewing members and greetings to new members.  We are looking forward to another year of interesting and educational programs and opportunities for socializing and learning from each other.
To start, just a couple of reminders:
The first meeting of the new Guild year will be held on September 24 (the fourth NOT the third Tuesday of the month).
All Guild meetings, while we remain at Kennedy Catholic, will start at 6:30pm and we must be out of the building before 9pm.
For those attending SIG's that take place before the Guild meeting, please check with the SIG leader for any time change.
We have been working hard over the summer to find a new home for our Guild meetings.  We have contacted a number of places and also been to see a few.  Cost is a factor, as is parking.  However, the Harvey School in Katonah is a serious contender.  It is not too far from where we meet now and has a number of other benefits. We will keep you posted over the next few weeks as we continue our search and discuss details with Harvey.
Super Saturday will be in a new place next year.  Annette Nash-Govan and Pooa Bloomberg found us space at the Ossining High School.  It will be held on February 15, 2020. Please contact Annette (supersaturday@northernstarquilters) if you would like to teach one of the classes.
Changes are definitely in the air! In addition to location changes, the Board is aiming to adopt some of the suggestions made in response to the Guild survey – including initiatives to make new members feel more at home, opportunities to socialize through quilting, and more classes which cover basic quilting techniques. Kudos to Carol Sterk and her committee for organizing the survey and proposing a number of recommendations to the Board.
Some members have already swung into action!  Over the summer, Rosemary DePaola and Diane Linker taught a basic class in quilting skills on Wednesday afternoons at Comfort Quilts and Patricia Loquet is organizing a Row by Row team program which will be a great way for people to get together and quilt during the year.
Comfort Quilts is always a wonderful place to meet and socialize with other Guild members and to learn from experienced quilters.   Join the group on Wednesdays in North Salem if you have the chance!
Thank you to all the people who have stepped forward to volunteer – to run SIGs, to work on Quilt Show committees and to support the host of other activities that are needed to keep the Guild a vibrant and educational home for us all.
Volunteers are always welcome and if you have ideas for new programs that you think will interest the membership, or would like to provide support to programs already in place, please don't be shy! (We are still looking for a member to chair the Special Events committee.  This is a great way to get involved and does not require a substantial time commitment.)
We hope that you enjoy all the Guild has to offer and that this year is a fun and rewarding one for us all.
Anne Chehebar and Karen Carlson, Co-Presidents, president@northernstarquilters.com