–
Board positions to be filled this year are the Activities Liaison role and Assistant to the President.
Please consider these jobs carefully. The guild needs everyone's participation and leadership to continue successfully.
We have had great success with two members sharing a position so please consider that possibility in your thinking.
*****
Ideally, one or two members would take on the Assistant role, working with the current President(s) as well as considering the possibility of taking over the Presidency in 2021.
A brief Assistant to the President Job Description follows:
The Assistant to the President is a Board Member, appointed by the President, to perform tasks that will help the President in the performance of her duties.  In addition, the Assistant may be asked to participate on any committee at the discretion of the President.

The Assistant to the President may be asked to help the President with whatever is unique to the requirements of the time along with acquiring general knowledge of the workings of the Board and familiarity with the By-Laws, Policies and Procedures of the Guild.
*****
The Activities Liaison role combines Education and Special Activities, hopefully encouraging members who might not be able to take on the board position but who could manage one of the subsidiary activities listed below.
And if you (and a friend) are able to take on one of those subsidiary activities, please contact us as well.  Having those volunteers in place can make it easier for someone to take on the Liaison role knowing support is already available.
A working draft for the Activities Liaison Job Description follows:
The Activities Liaison is a Board Member, appointed by the President, responsible for ongoing and ad hoc educational and social activities for the Guild.  New activities may be added; any activities which do not generate sufficient interest or for which there are no volunteers may be dropped.
The Activities Liaison would help appoint and work with volunteers who then manage the following current activities:
Show and Tell at meetings.
Special Interest Groups (SIGs).
Winter (January, February) Meeting Programs.
Appointing (with Board assistance) Guild members to lead the ad hoc events listed below.
Ensuring the membership is kept informed about the various activities underway.
Show and Tell – Members share pieces they have made before the lecture.
Special Interest Groups (SIGs) – These are small self-directed groups in which members with a common interest learn from each other.  `
January and February Winter Programs – These are usually social, educational, member participatory type activities that do not require the hiring of an outside speaker, due to the possibility of inclement weather and uncertain availability of the auditorium.
Holiday Boutique – Interested members (and usually Comfort Quilts) may 'rent' a table to sell their hand-crafted and quilt related wares before the November meeting.
Super Saturday – Around the end of February, Guild members get together for a fun and productive Saturday, lunch provided, taking member taught classes or working on their own projects.
Quilt Challenge – A theme is solicited and members are challenged to make a small wall quilt based on the year's proposed theme, ribbons are awarded. The quilts are displayed at the April Guild meeting and at the Quilt Show. 
Trips – Organize a one-day or overnight trip to a quilt related event if sufficient interest is expressed by the membership. (nothing currently in the works)
---
–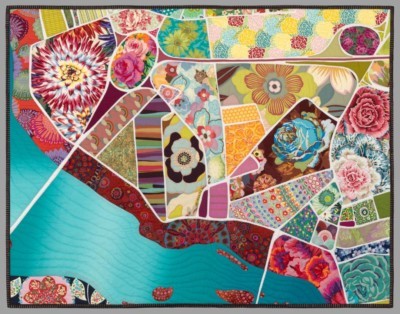 Timna Tarr will be giving a workshop on March 18th. There are several spots still available so we are opening it up to non guild members, if you have a friend or belong to another guild please spread the word.
Making Maps with Fabric:
Use fabric to capture a special location. Maybe it's your favorite vacation spot, your neighborhood, or your hometown. Over the course of the workshop, participants learn both pattern-making and improvisational quilting techniques to create personal map quilts. Bring a large paper map of a location you would like to replicate (approx. 24"x36"), your favorite fabrics and threads, and a willingness to experiment. 
May 19th we have Beth Helfter, of EvaPaige Quilt Designs teaching us Accordion Sewn HSTs. This project uses Beth's Accordion Sewn HST method for making scrappy half square triangles with no waste. Scrappy is the key word. Come join us!
–
Contact programs@northernstarquilters.com
---
–
We had a very successful Super Saturday on February 15, 2020 at Ossining High School.  The school was very accommodating to our needs.  We had several large spacious classrooms for each class and a large cafeteria for lunch preparations.  We will look to hold Super Saturday 2021 at Ossining High School again next year.
I want to thank all of our teachers for their wonderful instructions and presentations in teaching our members and guests.  Thank you to Diane Linker and Carol Sterk for Foundation Paper Piecing, Daisy Dodge for Jelly Roll Rugs, Tamar Drucker for Collage/Pictorial Quilts, Caryl Castellion for Beach Bags, Patricia Loquet for Across The Block and Luann Bruce for Hand Applique/Hand Embroidery.  Special thanks to Karen Carlson for her help and advice and to our Hospitality Chairs, Nancy Picco and Kathy Keane for their delicious lunch, continental breakfast and snacks.
We would like to put in a call for teachers for next year's Super Saturday 2021.  We hope to have our teachers lined up by the June meeting so we can start registrations early in September.
We are also looking for an assistant (Super Saturday Coordinator In-Training) for Annette.
Please contact supersaturday@northernstarquilters.com
---
–
P,Q,R last named members for snacks but everyone should feel free to add some goodies.
---
–
Hey everyone,
A reminder for the Quilt Show Silent Auction:
We are collecting
wall hangings, table runners and crib-throw-bed quilts.
Please help by donating a special item!
We need lots of items! Your contribution is a great way for you to help the guild continue to finance the activities we all enjoy!
Keep the following guidelines in mind: art quilts, wall hangings, table runners, and crib thru bed quilts are all accepted (nothing smaller than a 48″ perimeter).
Please drop off your donations (with your name and phone# attached) at the Membership Table at upcoming guild meetings or at Comfort Quilts or contact me to make arrangements.
Thank you,
Rosemary DePaola, silentauction@northernstarquilters.com
---
–
MARCH is "Register Your Quilt Month" for our 2020 World of Quilts Show
Calling all guild members to volunteer at our World of Quilts Show
Quilt Show Committee needs a person to take charge of " QUILT SHOW TEAR DOWN".
Responsibilities include overseeing the safe removal of the quilts from the display frames and coordinating with the quilt registrar to place quilts for pick up.
If you are interested, contact Narci Medina at narcinsqgshow@gmail.com
Contact quiltshow@northernstarquilters.com
---
–
Looking to clear out your book and magazine collection?
I will be taking donations for our Quilt Show library sale at the February through April meetings. Please don't limit yourselves to quilting books and magazines. Our members are also interested in knitting, crocheting, sewing, and patterns. We can use it all!
Contact library@northernstarquilters.com
---
Sewing Day for ArtsWestchester and Amanda Browder's 'Metroplis Sunrise'
–
About 20 Northern Star Quilters and friends worked on the project panels at NSQG's Sewing Day at Kennedy.
---
–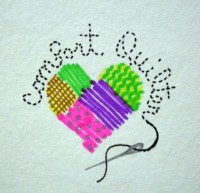 Comfort Quilt meetings are March 4th and 11th in North Salem.
Contact charitable@northernstarquilters.com 
---
Communications-Daisy Dodge and Deb Warren
–
Contact communications@northernstarquilters.com.
---