Programs -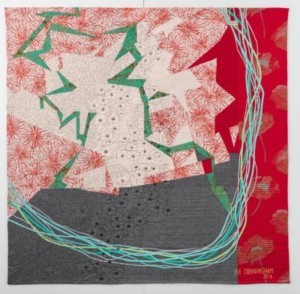 Joe Cunningham will be joining us via Zoom for our May Meeting at 7:00 pm on Tuesday, May 19th.
His website is  http://www.joecunninghamquilts.com/about.
We will send out the Zoom invitation link a few days before. This should be a fun lecture with a slightly different format. Since Joe will have a videographer, he will not be static in front of the computer, and is planning to give us a tour of his San Francisco Studio and a demonstration of his creative process. A recorded video link will be made available for those who cannot join us Tuesday evening.
---

For our May Workshop we will have Beth Helfter of EvaPaige Design do a half-day workshop via Zoom. May 20, 9 AM -12 PM.
Check out her website – https://evapaigequilts.com
Because scrappy is always better, Beth developed the Accordion Sewn HSTs™ method of making HSTs without matches or waste. Check out her Accordion Sewn HSTs™  YouTube video and student work on her Facebook page! You'll be intrigued and I hope you'll decide to join us for three hours of interactive instruction.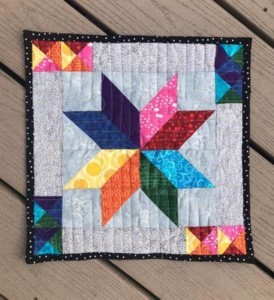 Come hang out with other guild members, use your stash, and have a fun filled morning of quilting while learning a new technique for half square triangles. This would be a great class for new quilters.
Class is limited to 20, cost is only $20, so sign up soon.
Email Linda to signup and ask for the link to pay online or send a check (payable to 'Northern Star Quilters' Guild Ltd') to:  Linda Stern, 26 Lake Drive, Somers NY 10589.
Thank you to everyone who participated in the online lectures and workshop this month. It is so important that we continue to quilt, grow and and stay connected. Timna and Cindy truly appreciated our support and willingness to try something new and were awed by our Guild.
Looking forward to May!
Linda, Programs@Northernstarquilters.com
---
---
Annual Meeting -
Due to the corona virus pandemic, our May and June scheduled meetings at Kennedy Catholic are cancelled and the Annual Meeting of the Northern Star Quilters' Guild will be rescheduled.
At that re-scheduled meeting, the membership will vote on a bylaw change to replace the Education and Special Activities position with an Activities Liaison and to elect the candidates for the NSQG Board for the 2020-21 Guild year.  Details about the nominees and bylaw change were emailed earlier in April and will be emailed again when the future Annual Meeting date is determined.
The candidates for election are: (*returning)
Co-Presidents*:  Anne Chehebar and Karen Carlson
Secretary*:  Rona Spar
Co-Treasurers*:  Rebeka Glacy and Karen Martinez
Co-Vice Presidents – Communications*:  Daisy Dodge and Deborah Warren
Vice President – Membership: Carol Sterk
Vice President – Programs*: Linda Stern
Vice President – Quilt Show*: Narcita Medina
The appointed committee chairs are: (*returning)
Activities Liaison – April Russell
Assistant to the President – Anne MacDonald
Charitable Activities – Dee Plouffe
Hospitality*- Kathy Keane and Nancy Picco
Librarian*:  Deborah Tashjian
---
---
Quilt Show -
Well, you may read this and think, "Narci, Get a Life!!"  But, all last week, my phone and computer consistently reminded me that this would have been one of the busiest week of the year starting with quilt drop-off, judging, set-up, and of course THE SHOW.
How could I not think of all of us – of all of you!
When I joined the guild I had never been to a quilt show or even made a quilt.  And now I am part of a group of talented, fun, and  dedicated women that work, without compensation, for almost a year, to produce The Northern Star Quilters' Guild —  'The World of Quilts' Show. n It would have been a great show!  Everyone please stay well and I know our 2021 show will be spectacular.
My best to all, Narci.
---
---
Although our Quilt Show is cancelled, the raffle drawing will take place as planned, the proceeds benefiting New Dawn Family Resource Center.
We hope to hold the drawing via Zoom prior to Joe Cunningham's talk on May 19. Stay tuned.
Grand Prize is the Sunshine Star Cabins Quilt made by NSQG guild members.
First Prize is a Bernina 435 Sewing Machine
donated by Pins and Needles of Mt. Kisco, NY.
Even more than usual, we need everyone's help to make our raffle a success and to support New Dawn!
If you would like to buy tickets or obtain additional tickets to sell or have any questions, please contact Anne Macdonald, charitable@northernstarquilters.com.
Make checks payable to Northern Star Quilters Guild Ltd.
Mail to NSQG-RaffleTickets, Box 232, Somers, NY 10589.
If you would like to make a donation to New Dawn WITHOUT buying any raffle tickets, you may donate by clicking here  or via our website, www.northernstarquilters.com,  using the DONATE button in the upper right corner.
Be sure to specify 'New Dawn' on the Comments line.
---
---
It's time to nominate a charity for next year's (May 2021) Quilt Show Raffle.  The nomination information follows and the nomination form is available here.
Nomination Criteria:
Recipient must be a non-profit organization that serves people in the local, tri-state area.
The organization should benefit people in need without political or religious affiliation.
The NSQG member will contact the organization to determine it's level of interest and communicate the ticket sale and time requirements involved.

The organization is required to sell at least 50 books of tickets (300 tickets) prior to the Quilt Show
The organization is required to be present at the Quilt Show to assist with raffle ticket sales and to explain their purpose to visitors seeking information
One or more Representatives from the organization must be present at the June meeting in order to receive the proceeds of the raffle.

The organization must submit a letter to the Chair of Charitable Activities.  This letter should declare the organization's 501c3 status, state it's purpose and describe it's services.
Contact Anne MacDonald, charitable@northernstarquilters.com. 
---
---
Hard to believe but it's time to start planning our 2022 Raffle Quilt!
– The drawing for this year's 2020 quilt, organized by Pat Julian, will be happening in a couple weeks – don't forget to get those tickets in!
– The 2021 quilt for next year's show, organized by Daisy Dodge, is nearing completion.
Bring us your ideas for the 2022 raffle quilt – contact Anne MacDonald, charitable@northernstarquilters.com. 
If you or a group of friends are interested in overseeing the design and construction of a future raffle quilt, the process is spread over almost two years with assistance from guild members, the activities are:
– getting the design approved by the Board by the end of this year's guild season
– setting up for construction over the summer months
– overseeing the piecing, quilting, and binding thru the following year's guild season and summer
– getting the quilt photographed
– presenting the finished quilt to the membership at the second following season's September/October guild meeting.
---
---
Comfort Quilts -
Comfort Quilters have been working away even though we have not been able to meet!
Normally, come this time of year, we would be anticipating our summer project and getting ready to switch to our summer quarters in Armonk.  This year, our summer plans are still uncertain but we will certainly keep quilting one way or another!
Meanwhile, if you would like to pick up a Comfort Quilts kit or batting for a Comfort Quilt, contact comfortquilts@northernstarquilters.com.
---
Patricia Loquet – This is a CQ, nicu size, that I made using the Sweet Buns pattern.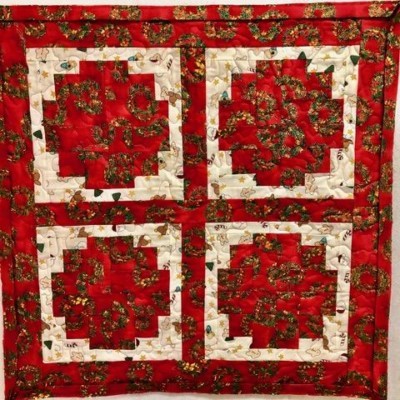 Althea Nolan – This Comfort Quilt got its start when the four corner blocks were donated to Comfort Quilts.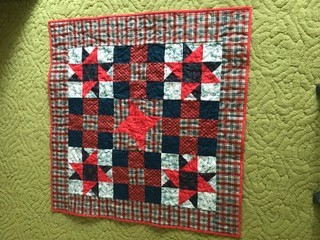 Rosemary DePaolo – These two quilts I made for Sparrow's Nest using kits from The Quilt Basket. They were supposed to have a Charity Quilt Day but had to cancel due to the pandemic.  They will be given to those that are dealing with cancer in our local area.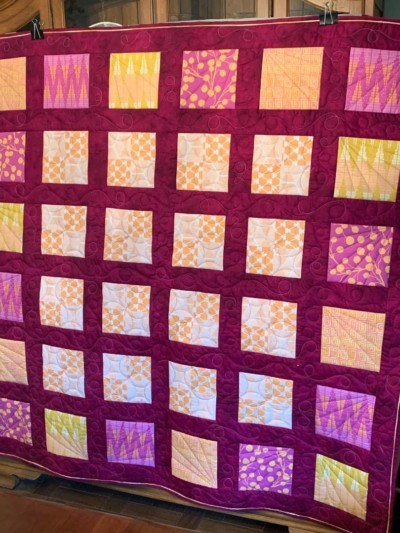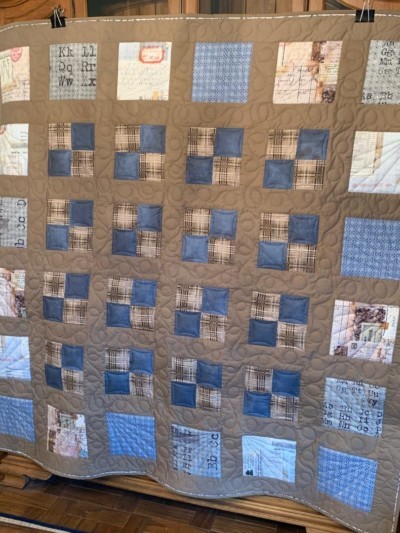 Kathy Keene – This is another quilt for Sparrow's Nest. The Quilt Basket donated all the fabric and batting for these quilts.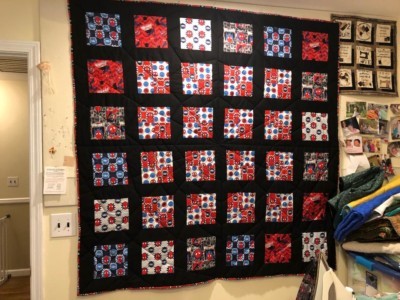 Ellen Belson – Finally finished the Comfort Quilt I started in the fall. It was quilt as you go but I had to quilt down the backing. I am quite pleased with it, almost too nice to give away.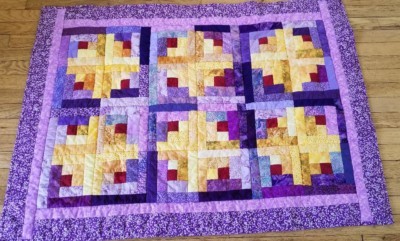 Jean Degl – 11 NICU quilts getting delivered to Maria Ferrari hospital NICU at Westchester Medical. Thanks to all who contributed.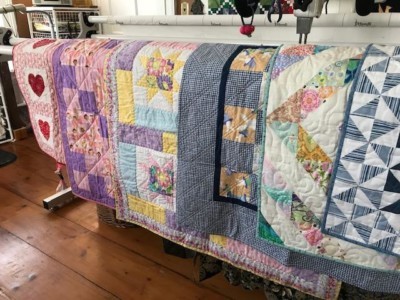 Jennifer Kramer – My latest CQ, notice any resemblance to our raffle quilt?
Marsha Henderson – Here is a Comfort Quilt made from a kit. Kudos to those great kit makers, Carol and Karen.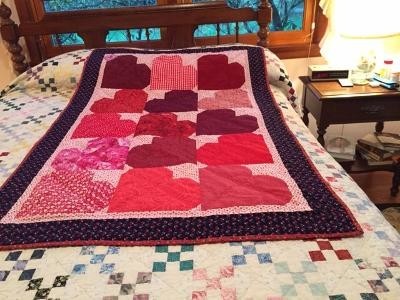 ---
---
Susan Fasnacht has been totaling member mask donations:
NSQG has really stepped up to the task of making of face masks during the COVID-19 pandemic.  Our members have made over 2,700 face masks, plus an additional 74 surgeon/cancer caps.  The face masks have been distributed throughout the area – lower and upstate New York, Connecticut, New Jersey.  Many have gone to friends and family – this is important since it helps protect those we care about, while not using medical grade masks needed for health care providers and first responders.  Other recipients of the masks include essential workers such as mailmen, garbage collectors and sales clerks, as well as nursing homes, charitable organizations, and animal hospitals.  However, a large portion of the masks went to hospitals, health care centers, ambulance corps, and other organizations distributing masks to the medical community.
The response by our members has been fantastic.  It is a real tribute to the charity that our members have in their hearts.  We are sure the list is not complete and that members are finding other ways to use their skills to help others get through these tough times.  If you have donated masks and want to add your count to our total, please email Susan at activities@northernstarquilters.com.
For those of you with questions about face masks, a list of members collecting masks is available via the 'Member Projects' links below.  If there are any updates to the list, please contact news@northernstarquilters.com.
If you are in need of elastic for donated masks, contact news@northernstarquilters.com., some may be available for pickup.
---
FACE MASK QUILT:  Jennifer Larrabee is making a quilt, for display at next year's quilt show, out of scraps from fabric that people have used SPECIFICALLY for masks or other PPE for Healthcare workers during this crisis to commemorate how the quilting/sewing communities stepped up to help out.
Please send her a 6.5"(unfinished size ) block, a