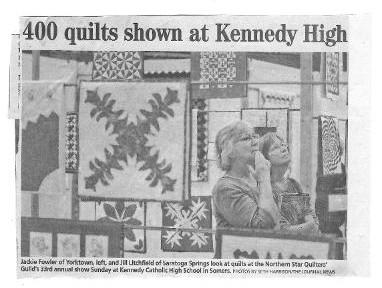 Summer seems to have whizzed by and now fall is rapidly approaching.
Sadly, we will not be able to have our Guild meeting in person, but we are planning to have to have a zoom meeting on September 22.  The meeting will start at 5:45 p.m., but the 'room' will be open 15 minutes beforehand and you can log on and chat with other members before the formal meeting starts.  Following that business meeting, Thomas Knauer will present his lecture "Why We Quilt", starting slightly earlier than previous lectures, at 6:30pm.  There will be separate links for the Meeting and the Lecture, and we will be sending those out a day or so beforehand, together with instructions, so please watch for those.
We plan to use this format through the fall and Linda has lined up more wonderful quilters who will present zoom Lectures on the evening of our Guild meetings and will teach workshops the next day.  All the information can be found on the website and we hope that you will look into signing up for some of these very interesting workshops.
Thank you to those of you who responded to our survey about the possibility of having a Quilt Social event in October.  Naturally, everyone has her or his comfort level and while some members are enthusiastic about an outdoor event, others are still more cautious.  As a result, the Board will be discussing the feasibility of holding a smaller outdoor event for those members expressing an interest.  We hope that by spring we will be able to put another outdoor event on the agenda that more members will feel comfortable attending.
We are always looking for new ways in which we might connect – perhaps break-out rooms on zoom where small groups might meet to show what they have been working on or discuss new workshops they have attended – and we would love to hear your ideas.
Thank you to those of you who continue to send in photos of your quilts and run the various SIGS and quilting groups
Please be sure to pay attention to your NSQG emails and our website, our main lines of communication these days!
Let's fill the fall and winter with as much color as we can and keep sharing our love of quilting!
Karen and Anne
September 2020
---
If you need some assistance with technology to access our online meetings and workshops, let us know!
We can provide help to make sure you can stay connected to your friends and the activities at NSQG!
Watch this short Zoom tutorial we found for you
//youtu.be/9isp3qPeQ0E.
Contact Anne MacDonald for more personalized help,
annemacd8250@gmail.com or cell# in NSQG directory
---
---
---