and Show N Tell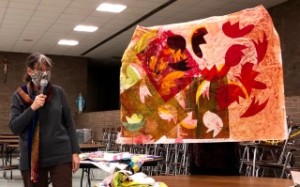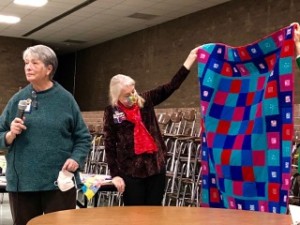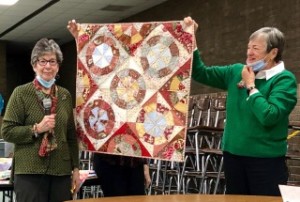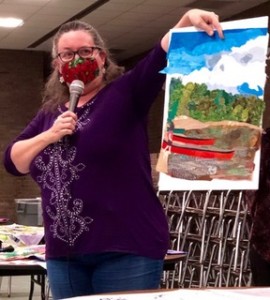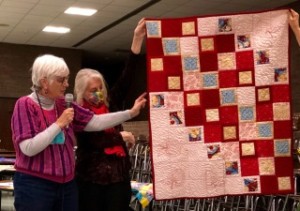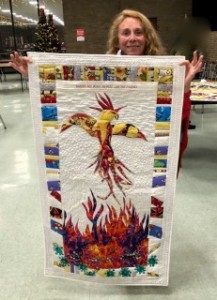 ---
Quilt Show - Lisa Alfonzetti -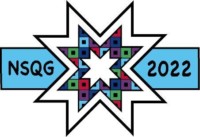 Within the first few months as Quilt Show VP, I have learned what a dedicated, hard-working group the guild is.  The passion and dedication that goes on behind the scenes to bring members a "reason to belong" is impressive.
Thanks to pandemic-related issues and the loss of WestConn as a venue, we had a late start.  The timeline is a bit off track and we are dealing with the struggles of planning a show in a brand new to us venue.  But, the good news is there will be a show this May.  Committee members are working hard, and we are excited.
We hope you are getting those quilts ready!
So mark your calendars…
World of Quilts
Purchase College Gymnasium
753 Anderson Hill Road, Purchase NY
Saturday 4/30, 10 AM – 5 PM
Sunday 5/1 10 AM – 4 PM
Keep an eye on your email for a detailed "Everything You Need to Know About the Quilt Show", arriving to your inbox in early January.  This email will contain details about Quilt Registration, Quilt Drop-Off, Judging, and more.
Interested in volunteering?  If you have not already attended a committee meeting, please send an email to info@pinsandneedlesny.com ASAP, we would love to include you at our next meeting.
---
---
Charitable Activities - Dee Plouffe
Check your mailbox for your packet of 5 books of raffle tickets.
Ticket stubs and a check can be mailed back to me, Dee Plouffe, 280A Heritage Hills, Somers, 10589 or if you like to pay by credit card, I will gladly fill out the ticket stubs for you.  Additional books can also be mailed to you.
Thank you for your support and for returning your ticket stubs ASAP.
Dee Plouffe',  charitable@northernstarquilters.com
Remember you can pay anytime for raffle tickets or request more tickets online by clicking HERE.
---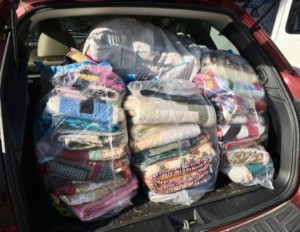 Jody Sullivan, our co-president, delivered 38 Comfort Quilts to the WMC Children's Behavioral Center in December.  This sizeable donation was made possible by our great group of Comfort Quilters…thanks to all and especially Karen Carlson and Carol Auer for making CQ "better together".
All members are welcome.  Last minute cancellations do happen so if in doubt or coming for the first time please check.  Contact comfortquilts@northernstarquilters.com to join in making Comfort Quilts quilts or to make charity quilt requests or to donate fabric.
Anticipated Schedule for Jan-Jun 2022: (*non-standard dates, Wednesday time 10-2))
January 19,
* February 2 & 26 (1st Wednesday and 4th Saturday)
* March 9 & 23 (2nd and 4th Wednesday)
April 6 & 20, May 4 & 18, June 1 & 15
---
Comfort Quilts yearly Holiday Party was a complete success.  Our Christmas White Elephant mascot "Dolly" reappeared and was cheered by all!  The cookie exchange was a treat to bring home and enjoy.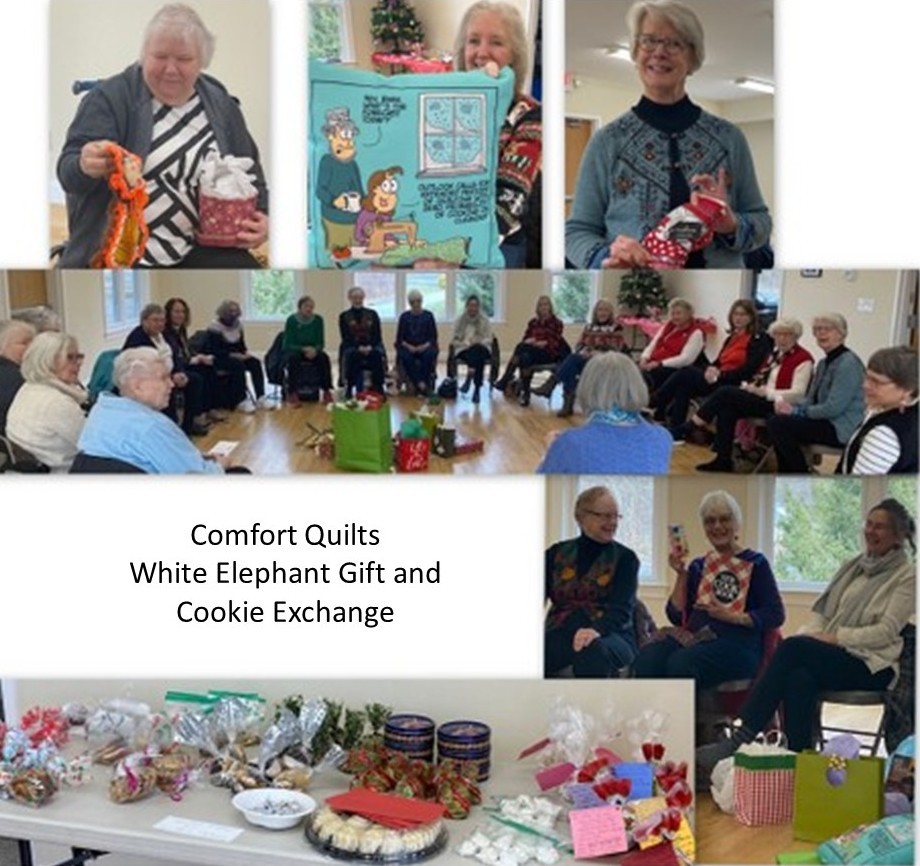 ---
'Make a Comfort Quilt' Saturday
Especially for those who can't come during the week as well as our 'regulars'
Free to all members.  All recommended vaccinations required.
Saturday, February 26th, 10:00am-3:00pm
North Salem Volunteer Ambulance Corps
14 Daniel Road, North Salem, NY
Bring your sewing machine and personal sewing tools (neutral thread, scissors, pins, seam ripper, etc), everything else is provided.
Enjoy a day of sewing with friends.
There will be simple quilt kits available to select and sew, some could even be completed during the session.
Assistance available as needed on selecting, sewing, and quilting your chosen kit.
If you want to keep your quilt rather than donating it to Comfort Quilts, there is a $10 materials charge.
Chicken and veggie wraps will be available for lunch plus cookies to munch and hot water to brew your favorite hot drink.
If not to your taste, just bring a lunch of your choice.
Come for the entire time or just for whatever part works for you.
Space is limited, pre-registration required.
Email comfortquilts@northernstarquilters.com to register.
Questions? Contact Karen Carlson or Carol Auer, comfortquilts@northernstarquilters.com
---
Programs - Kathy Tuttle -
---
WANTED – POP UP TEACHERS
The one to two hour Zoom Pop Ups offered last year were a big hit with our members.  Offer some new technique you just learned or a basic skill such as fabric painting, borders, binding, machine and hand applique,  hand embroidery ….
Contact Kathy Tuttle, kathytuttle9@gmail.com.
---
IMPROV POP UP – Offered by members of the Improv SIG
– What if – and then what?
– Dancing with the Wall
During this two-part workshop, members of the NSQG Improv group will share their journeys into the world of improv quilting; and the techniques, strategies and technical tricks they use to create improv pieces.
Week 1 – Saturday, January 15th – 11:00-12:30 pm.
Individual members of the group will talk about their approach to improv and share examples of their work.
Members will demonstrate some of the techniques used in improv, inserting slivers, curved piecing, creating/building a pallet, using a challenge or inspiration to get started, pressing, etc.
Q & A What questions do you have about improv quilting?
Week 2 – Saturday, February 5th – 11:00-12:30 pm.
Demonstrations of additional techniques
Hands-on Sewing time.  Everyone will have time to create a small improvisational piece based on an open-ended challenge.  We will talk about the challenge at the end of Week 1.
---
---
Visit our website (click HERE) for details and schedules on our lectures and workshops and signup anytime.
David Sirota (online)
Jan 18, 2022
What Makes A Quilter Tick?
Jan 19, 2022
Sew Many Triangles
Kassia St. Clair (online)
Feb 15, 2022
The Secret Lives of Color
—
None
Member Speaker (in-person)
Mar 16, 2022
Mary Cannizzaro
 None
None
Heidi Parkes (in-person)
Apr 6, 2022
Hand Yoga and Improv Quilts
April 5&6, 2022
Framed Quilt (2 day)
Jane Sassaman
Member Speaker (in-person)
Apr30&May1, 2022
May 18, 2022
Quilt Show Speaker
Lisa Mason-Trunk Show
May 2, 2022
None

Pattern Play


None
Salad Supper (in-person)
June 22, 202
Bring a Dish
None
None
Emails with details and reminders about workshops as well as any extra events are sent regularly, be sure to watch for them.  Zoom lecture links are sent out a couple days beforehand, recording links for those lectures that can be recorded are sent out a couple days after.  Workshops are not recorded.
---
Sew Many Triangles – David Sirota – Jan 19, 2022, 9am-3pm, Online via Zoom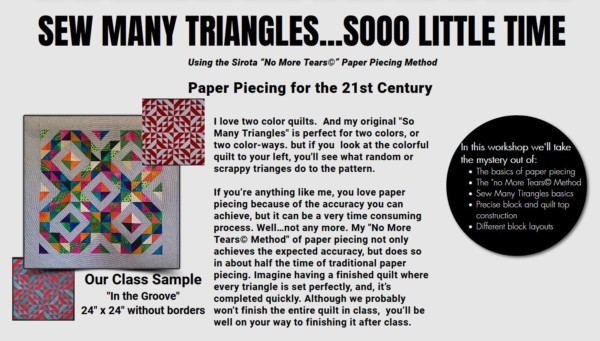 The workshop is for NSQG guild members with a max number of 24.  Two weeks prior to the workshop, Dave will make available any spots left for non-member signups.  This workshop fee is $40.
–
*** The signup procedure for this workshop is a bit different then usual ***

–
Then go to the
quiltmavendave.com
website, scroll down to signup for 'Sew Many Triangles' sponsored by NSQG January 19th.
–
 Before the class Dave will email you the pattern and directions to be printed out on regular copy paper.  There is no additional fee for the pattern.
–
Participants will receive an email with the ZOOM link as well as the pattern.
–
Contact programs@northernstarquilters.com with any questions.
---
Special Interest Groups (SIGs)
Activities - April Russell