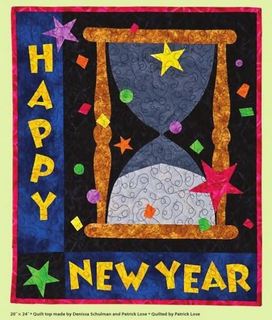 Happy New Year to you all!  We hope that you enjoyed a festive and joyful holiday season.
We are looking forward to a bright 2020, filled with events– both golden oldies and new ventures.
Sheri Cifaldi-Morrill was able to reschedule her cancelled December lecture and will show her beautiful modern quilts at our January meeting. Following requests for a weekend workshop, Sheri's workshop on curved piecing will be held on a Saturday, on January 25.
At the next meeting, please remember to bring in your completed blocks to Daisy for the 2021 Raffle Quilt.
Beauty is in the eye of the beholder, so don't forget to bring along all that fabric that may look ugly to you but may be inspiration to other members!  Back by popular demand the Ugly Fabric Auction will take place at the February meeting. Just quilting fabric, please, ironed, folded, and tagged with amount.
Super Saturday this year will be held at the Ossining High School on February 15.  There is a wonderful variety of classes to choose from and you can have a look at them on our website.  Sign up at the next meeting or online – see the details in the newsletter's Super Saturday section.
We hope you are all working hard on the quilt challenge, appropriately entitled, "2020 – What's Your Vision." Challenge Quilts will be collected at the February meeting.
The Guild is looking forward to taking part in a new event this year.  ArtsWestchester is sponsoring a community art installation, designed by Amanda Browder, an artist known for her large-scale fabric projects.  She has designed a quilt-like sculpture which will be hung from the top of ArtsWestchester's historic building in downtown White Plains in May.  ArtsWestchester has invited arts organizations to hold sewing days to help with this project and we are very much hoping to take part.  Susan and Althea, who recently attended an orientation, will tell us more about this project at our next meeting.
Hard to believe, but it is that time of the year when we reach out to members to ask them to volunteer their time to keeping the Guild alive and vibrant.  There will be Board openings, but for those of you who cannot travel to Board meetings, there are a number opportunities to organize activities and events – the very aspects of our Guild which provide us all with fun ways to socialize, gain inspiration and improve our quilting skills.
Volunteers not only keep the Guild humming along, but also bring new ideas – or resurrect popular ones from the past.  The survey of the membership highlighted the need to reach out to new members and the proposals that Carol and her committee put in place are paying dividends.  The response to Patricia's Row by Row was overwhelming. These volunteer initiatives make the Guild a livelier and richer organization for us all.
We hope you will seriously think of contributing your talent and skill and respond to the call!
Looking forward to seeing you at the next meeting on January 21.  In the meantime, please keep your photos coming to Sarah for our Instagram account by emailing her at social@northernstarquilters.com.
Anne and Karen, president@northernstarquilters.com
January 2020