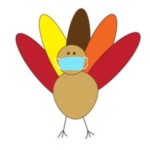 November already! This holiday season will be a little different from our last one, but we hope you are finding creative ways to celebrate and give thanks.
Cheered by the success of the Quilt Social and as we head into the colder weather, we are looking for different ways to stay connected. At our November Guild meeting we will be trying out the functionality available on Zoom which allows us to break into "chat rooms" of small groups. The plan will be to hold our business meeting first.  Immediately afterwards, our host, Anne MacDonald, will then (by the magic of technology) break us into groups of 5 for a short discussion or chat.  Anne will give us a topic to start the conversation, and the group members can start by introducing themselves to each other and then address the topic for the chat. At the end of 15 minutes, we will all be brought back together in time to attend the lecture.  Anne will be providing exact instructions during the meeting, as well as the discussion topic, and we promise that the experience will be easy to navigate!
The mini Comfort Quilt meetings, latest on Wednesday, November 4th, provide another opportunity to get together with Guild members, drop off a quilt for donation or pick up a quilt kit or two to work on.  Everyone is welcome.
Carol Sterk and Rosemary DePaola will soon be distributing a draft of the Member Directory (both digital and hard copy) for review.  The Directory is a key resource for staying in touch so please make sure to look over the contact information listed for you and email them if there are any errors at membership@northernstarquilters.com.  So far, we have 169 members, and we thank you all for rallying to support the Guild in these difficult times.
As Susan Fasnacht mentioned at our last Guild meeting, ArtsWestchester is providing a unique opportunity for its grantees.  ArtsWestchester will match any first-time donation to the Guild up to $1,500.  Susan describes the details of this matching gift opportunity in the Latest News this month, so please check it out and think about making a gift as a vote of support for our programs.
Giving the lecture this month is Merrill Comeau, a fiber artist, who will give a survey of her work and other international artists who work with fiber and suggest techniques for creating colorful patterned fabrics. This is another wonderful opportunity to see the creative ways that different fabrics – particularly recycled fabrics –  are used to express ideas in quilts with stunning results. You can see some of Merrill's work here: www.merillcomeau.com.
As we celebrate on November 26, we will be giving thanks for all the support the Guild has received over the last year.  Happy Thanksgiving Northern Star Quilters!
Stay well.
Karen and Anne
November 2020
---