*Lectures & Workshops*
Our December lecture is by Natalya Aikens,  'Sustainable Practices in Art Quilts'.
What materials can you use in an art quilt? Anything you can stitch through! There is a certain thrill you get when buying new fabric or thread, but what if you instead got a thrill from figuring out new uses for old materials? Natalya goes through all the things you can stitch by hand and by machine to add an unexpected and wonderful texture to your artwork.
---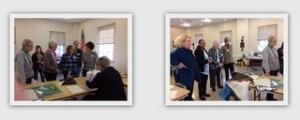 Learning all the tricks at Debbie Bein's November workshop!
*Special Events*
Super Saturday on February 17th 2018
We will continue registration at the next meetings, but feel free to call or e-mail me with your class request. The fee is $20, payable in advance, for one class for the whole day and lunch.  The location is again the Yorktown Presbyterian Church on Route 202 and 35.  This is a single-level venue, friendly and comfortable, spacious and warm.  Our aim is to enable any interested guild member to participate in the event.
Foundation Paper Piecing – Stained Glass Windows – Susan Deshensky
Hand embroidery – Luann Bruce
English Paper Piecing Class – Diane Linker
Pictorial quilt with sheers and lace fabric – Tamar Drucker
Beading on Quilts and Wearables – Barbara Sferra
Fuse, Cut, and Fold – Carolyn Salon
Recover a folding chair back and seat – Donna Chambers
Fidget Quilts – Open Sew – Janice Hardy
Click here for details, photos, and supplies on classes offered.
Comments and suggestions are welcome.
Lancaster Trip
Sign-ups for the Lancaster Trip will continue at the December meeting.  Join us March 23-24, 2018 for shopping and a day at the AQS Lancaster Quilt Show.  The cost of the trip is $170 per person based on double occupancy at the hotel.  Detailed itineraries will be available at the meeting.  Please join us!
Jen Cannizzaro, trips@northernstarquilters.com
Guild Challenge
Quilts Inspired by Doors – Quilt Challenge deadline is at the January meeting and voting will take place at the February meeting.  You still have plenty of time to finish the quilt!
Please check here  for guidelines or contact Carla Wdowski, specialevents@northernstarquilters.com.
We are looking forward to seeing your creativity!
*SIG's*
Art Quilt Sig…
We will be meeting 
at 5:45
 before the meeting in the teacher's lounge.  This month will be the reveal of the "natural" mini challenge.  It does not need to be a completed project, so please bring what you have done!
 Landscape SIG…
 Long Arm Sig…
There will be no December Meeting!
 ImPrOv Sig…
We're looking forward to your interpretation of this month's challenge – riff on a traditional block. You may use as many fabrics as you wish and  make it square. We're planning a demo, too.
 EQ Sig…
The EQ Sig will meet at the December meeting. Same time, same place….5:45  pm – back of cafeteria…
 Paper Piecing SIG…