*Lectures & Workshops*
Our December lecture is by Natalya Aikens,  'Sustainable Practices in Art Quilts'.
What materials can you use in an art quilt? Anything you can stitch through! There is a certain thrill you get when buying new fabric or thread, but what if you instead got a thrill from figuring out new uses for old materials? Natalya goes through all the things you can stitch by hand and by machine to add an unexpected and wonderful texture to your artwork.
---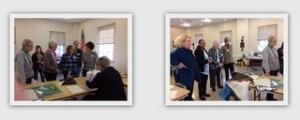 Learning all the tricks at Debbie Bein's November workshop!
*Special Events*
Super Saturday on February 17th 2018
We will continue registration at the next meetings, but feel free to call or e-mail me with your class request. The fee is $20, payable in advance, for one class for the whole day a